Jubileusze
25-lecie warszawskich wodociagów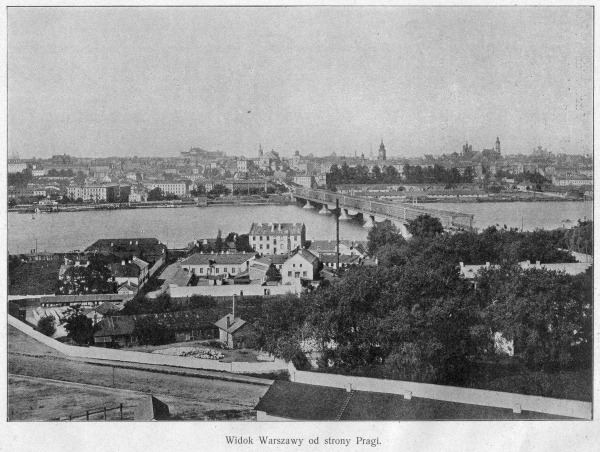 Widok Warszawy (ok.1911 roku)*
Jednym z największych wydarzeń dla środowiska "wodociągowców" w zaborze rosyjskim były zjazdy służące wymianie doświadczeń i poznawaniu najnowszych trendów w budownictwie wodnym Europy i świata. Zjazdy te odbywały się raza na dwa lata począwszy od 1893 roku i stanowiły pole konfrontacji koncepcji prac wodociągowo-kanalizacyjnych prowadzonych na terenie imperium rosyjskiego. William H. Lindley uczestniczył aktywnie, w towarzystwie polskich inżynierów reprezentujących tam "warszawską oblas't". Na trzecim Zjeździe w Petersburgu w 1897 roku, został wybrany na przewodniczącego komisji, której zadaniem było opracowanie zasady normalizacji rosyjskich żeliwnych rur i muf.
Mając na uwadze jubileusz 25-lecia uruchomienia wodociągów w Warszawie zabiegał o zgodę tej organizacji na urządzenie kolejnego, także jubileuszowego, zjazdu w naszym mieście. Oficjalnie uczynił to w czasie Dziewiątego Rosyjskiego Zjazdu Wodociągowców w Tyflisie (Tbilisi). Podczas rannego posiedzenia, w dniu 20 marca1809 roku uczestnicy Zjazdu na miejsce następnego spotkania zgłosili Jekaterynosław i Jarosław. William H. Lindley, przy poparciu towarzyszącego mu inż. Edwarda Szenfelda, zgłosił dodatkowo także kandydaturę Warszawy, jako miejsce kolejnego spotkania przedstawicieli jego profesji. W wyniku głosowania, ta właśnie kandydatura otrzymała najwięcej głosów. Wieczorem przewodniczący Zjazdu mógł odczytać telegram od wice-prezydenta Warszawy K. Zaremby, który wyrażał podziękowanie za wybór miasta i zapraszał jego uczestników do Warszawy. Co, jak zapisał protokólant Zjazdu, przyjęto "szumnymi apłodismientami (oklaskami)".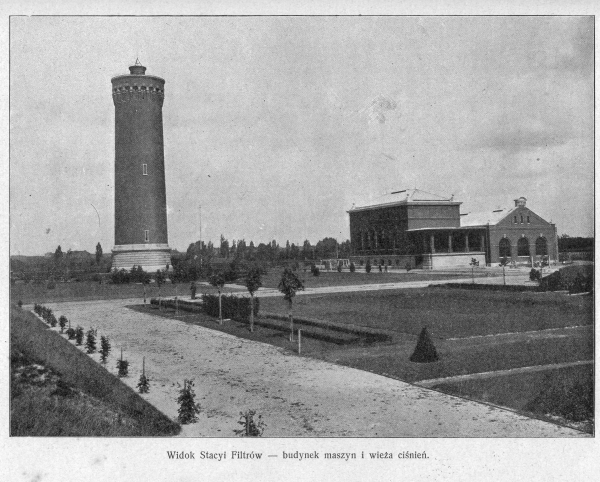 Stacja Filtrów Pomp na ul. Koszykowej (ok. 1911 roku)

Dziesiąty Zjazd Rosyjskich Wodociągowców początkowo miał mieć miejsce w dniach 27 marca - 3 kwietnia 1911 roku. Ze względu na nakładanie się tego terminu na święta wielkanocne, pod koniec 1910 roku prezydent Aleksandr A. Miller zwrócił się z prośbą Generał-Gubernatora o przesunięcie terminu o miesiąc. Równocześnie poprosił o wyrażenie zgody na wpisanie sumy 5.000 rs, przewidzianych na organizację spotkania, do budżetu miasta na rok 1911. Równocześnie kancelaria Warszawskiego Generał-Gubernatora wystąpiła do Ministerstwa Spraw Wewnętrznych Rosji VD o pozwolenie przewodniczenia Zjazdowi, jak to było w tradycji, prezydentowi miasta. Na początku 1911 roku wszystkie zgody nadeszły.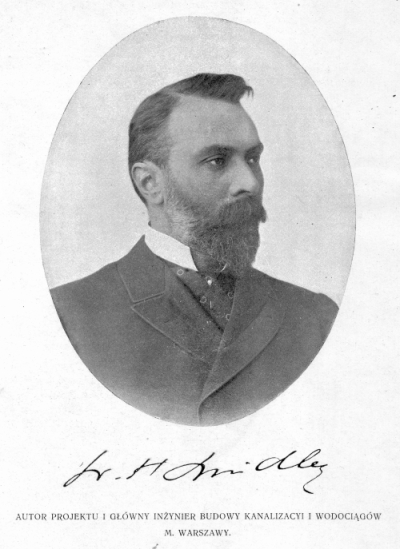 William Heerlein Lindley (fot.z ok.1911 roku)

Ostatecznie Zjazd odbył się w dniach 24 kwietnia - 1 maja 1911 roku. W zjeździe uczestniczyło 337 przedstawicieli z 67 rosyjskich miast i osiedli oraz 3 z zagranicy. W uroczystym otwarciu uczestniczył Generał-Adiutant Gieorgij A. Skałon, zaś prezydent Warszawy, oficjalnie powitał gości i przewodniczył Zjazdowi.Po uchwaleniu zwyczajowego wiernopoddańczego adresu uczestników do cara, na które ten w dwa dni później "serdecznie wszystkim podziękował", referat wygłosił Alfons Grotowski. "Po obejrzeniu różnych urządzeń w Warszawie wykonanych pod kierownictwem W.H. Lindleya, zorganizowano także wycieczkę grupy uczestników po Niemczech" - notował protokolant Zjazdu. Dodajmy, że Lindley na Zjazd przybył bezpośrednio z Baku i Samary, gdzie trwały przygotowania do budowy nowego, imponujące rozmachem wodociągu.
Z tej też okazji w 1911 roku, nakładem inż. Edwarda Szenwelda, ukazała się praca zbiorowa p.t. "Kanalizacja, wodociągi i pomiary miasta Warszawy wykonane podług projektu i pod głównem kierownictwem inżyniera W.H. Lindleya", napisana przez inżynierów A. Grotowskiego, E. Szenfelda, R. Gomólińskiego, J. Herdego, M. Jeżowskiego, F. Kamienieckiego, S. Rutkowskiego, Z. Wendkowskiego i S. Wolffa. Dziś jedno z fundamentalnych źródeł do dziejów warszawskich wodociągów i kanalizacji**.
*Fotografie pochodzą z ww. monografii

**Fragment książki: Ryszard Żelichowski, Lindleyowie. Dzieje inżynierskiego rodu, Rytm, Warszawa 2002.